Lang Co, Hue, Vietnam (May 13th 2023) | Following the 8th Laguna Lăng Cô Club Championship, this year, the 9th Laguna Lăng Cô Club Championship continues to take place successfully with impressive performances.
All golfers who are members of the Laguna Lăng Cô Golf Club and guests from all over the country has gathered at Laguna Lang Co – Top 100 World's Best golf resorts – very early to participate in the Practice round on May 12.
A day after, the Official round continued to take place in a very exciting atmosphere with the participation of 130 golfers.
Shotgun started at 11:30AM, all players performed outstandingly and gave their best with excellent personal technique and professional sportsmanship.
In particular, this year's tournament has the participation of 5 young golfers between ages 10 and 15. This is a good sign for golf in Vietnam when the 9th Laguna Lăng Cô Club Championship is considered a useful playground for many junior golfers.
The final results of the tournament are as follows:
Best Gross: golfer Pham Minh Phong with a Gross score of...
Winners of Division A, B, C for Members: golfer Ha Ngoc Hoang Loc, Pham Ba Nam, Nguyen Quoc Tuan
Winners Division A and B for guests: golfer Luong Ngoc Hung and Tran Cong Thuat
Ladies Division: golfer Do Thi Thu Ha & Junior Division Nguyen Xuan Vuong
Late afternoon of the same day, the Award Gala Dinner took place on the 18th hole in front of the clubhouse with the participation of all golfers, sponsors and the media. The winners received memorial cups and valuable prizes from Sponsors and organizer.
"After many year suspension of events and tournaments, it was fantastic to host a record breaking turnout for golf tournaments at Laguna Golf Lăng Cô.
Following the success of the 14th Faldo Series at Laguna Golf Lăng Cô - "Home of the Faldo Series Asia", we are very proud that the 9th Laguna Lăng Cô Club Championship continues to be a great success.
Especially with the participation of 5 young golfers, our Club Championship tournament has taken a new step in becoming an incubator for young golf talents in Vietnam."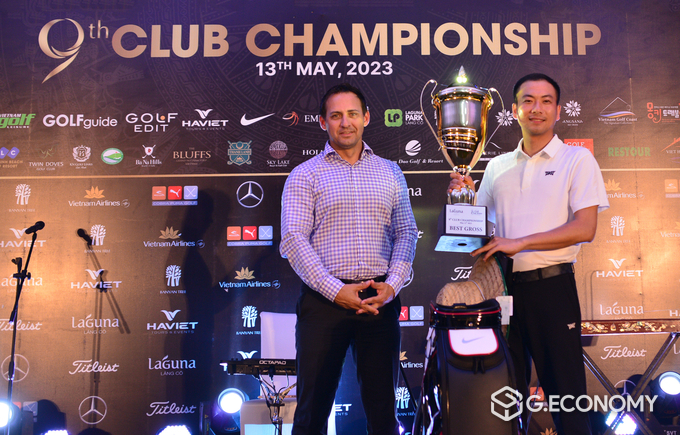 "We would like to give a special thank you to all our long term partners who have played an essential role in the continued success of all Laguna Lăng Cô events over the years.
With boarders reopened we were once again able to award international flights with Vietnam Airlines packaged with our Banyan Tree Villas and Laguna Golf, stay and golf packages for Laguna Phuket, Thailand, Laguna Bintan, Indonesia and Laguna Lang Co, Vietnam Resorts.
With Mercedes-Benz continuing to co-host the event as a Mercedes Trophy Qualifier, along with support from Titleist, Footjoy, Cobra Puma Golf, Bayan Tree Residence, Angsana Lang Co and Laguna Park Golf Residence as well as the entire Vietnam Golf Coast Group and all our media partners, our members and guests received a long list of exceptional prizes.
We look forward to hosting all of our members and guests again in the near future at Laguna Lang Co" said Adam Calver, Director of golf at Laguna Lăng Cô.